Volunteer & Pro Bono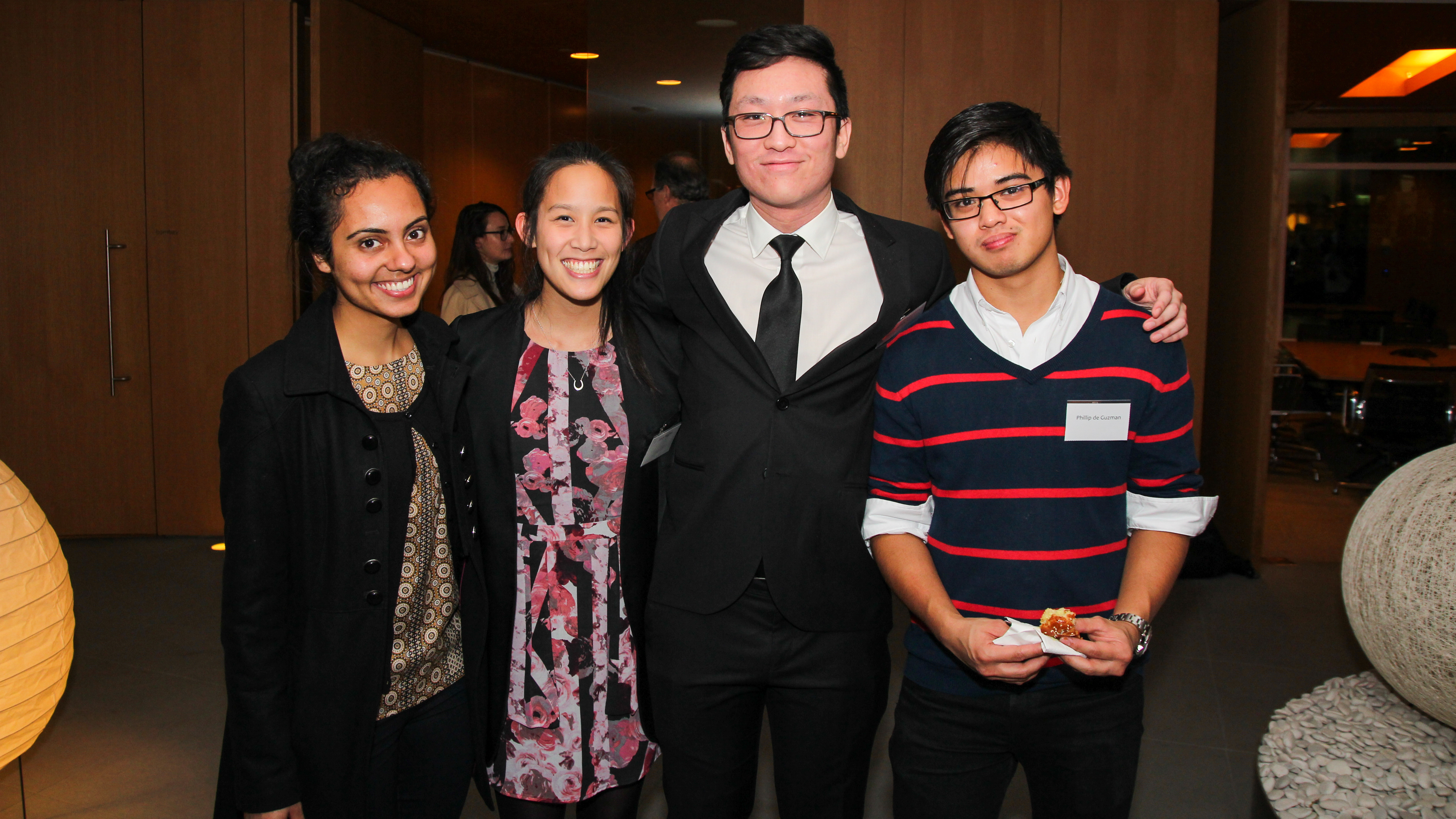 (Arts Law volunteers at annual Pro Bono Awards 2015 © Arts Law)
Arts Law would not be able to provide the range of services it offers without the pro bono assistance of many law firms and individual lawyers who donate their skills and time to assist artists and arts organisations. Many law students also provide valuable assistance as daytime volunteers, helping Arts Law in various ways, including legal research and administration tasks. If you are a lawyer or law student and are interested in volunteering at Arts Law you can find more information in the Support us section.
Become an AITB Volunteer
Arts Law advertise for volunteer law students throuhgout the year and are particularly interested in recruiting those students who have a genuine interest in working closey with the AITB Coordinator in a volunteer AITB Paralegal Position. This position involves assisting the administration of casework files and the AITB wills project as well as working on specific advocacy projects on Indigenous issues. The AITB volunteer paralegal must commit to working one day per week at Arts Law's Sydney office for a minimum period of 6 months.
To apply for the AITB volunteer paralegal position, please fill out the online application form at the Arts Law website here with a copy of your CV and recent academic record.
Pro Bono Awards
Arts Law gratefully acknowledges this support and thanks all the people involved in its services delivery. In 2004, Arts Law introduced Pro Bono Awards to recognise the considerable contribution of individual lawyers throughout the year. The recipient of a Pro Bono Award receives an artwork from a limited edition of prints specially commissioned by Arts Law from an emerging Australian artist.
Each year Arts Law commissions a talented artist to produce a limited edition print which they award to 34 lawyers or other professionals who have made a significant pro bono contribution to Arts Law's clients – the artists and arts organisations of Australia. This year the print, entitled Iceberg, was by Meg Herbert an artist and former lawyer, who studied at Central St Martins in London and Curtin University in Perth.
The Winners of the Arts Law Pro Bono Awards 2014 are:
Jonathan Adamopoulos (Allens Linklaters)
Stephen Boyle (Stephen Boyle Media & Entertainment Law)
Elizabeth Burrows (Influence Legal)
Mandy Chapman (Beyond International)
Annabel Clemens
Stephen Digby (Digby Law)
Jamie Doran (Clayton Utz)
Michael Easton (Michael Easton Legal)
Stephanie Faulkner (Wrays Lawyers)
Vincent Floro (ABC Legal Services),
Katherine Giles (ABC Legal Services)
James Gonczi (Allens Linklaters)
Melissa Goode (Herbert Smith Freehills)
Mark Harley (Boss Lawyers)
Julian Hewitt (Media Arts Lawyers)
Raena Lea-Shannon (Entertainment Media Technology)
Harold Littler (Harold Littler & Company)
Tracy Lu (Allens Linklaters)
John MacPhail (NDA Law)
Ian James McDonald (Simpsons Solicitors)
Clare Rumboll (Allens Linklaters)
Darren Sanicki (GI & Sanicki Lawyers)
Jeremy Storer (Storers Lawyers)
Michael Tucak (Creative Legal)
Mandy van den Elshout (ABC Legal Services)
Matt Vitins (Allens Linklaters)
Marcus Walkom (Media Arts Lawyers)
Geetha Nair (Australian Government Solicitors)
Jodie Wauchope (Gadens)
Jane Witter (Telstra)
Deborah Jackson (Allens Linklaters)
Garey Campbell
Tom Hakkinen
Allegra Day (Hearts for Arts Law)
Kate Cuthbertson (Malthouse Chambers) (Community Service Award Recipient)